Ranches & Rodeos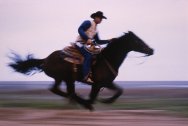 Looking for a real Texas vacation? Saddle up and head to one of the state's finest working ranches complete with cattle, chuckwagons and cowpokes. Almost 100 real working ranches in Texas cater to guests, and city slickers are welcome. With plenty of Western hospitality, these ranches offer you a chance to test your cowboy skills and a taste of authentic tradition. And in Texas, the three Rs are ropin', ridin' and rodeoin'. When it comes to intense, bone jarring rodeo action, there's no place like Texas. What was once a competition to test ranch skills is now one of the Lone Star State's most popular sporting contests. Rodeo is a year-round sport, and you can find the live, heart-stopping action of a rodeo somewhere in the state every single month. Family friendly, these destinations offer the perfect combination of relaxation and recreation -- cowboy style!

Whatever your geographic preference, dude ranches are located all over the Lone Star State. Ride a wildflower-strewn path in the Texas hill country, opt for the stark desert beauty of West Texas, or plan a lakeside adventure. With a myriad of activities, you'll discover a dude ranch isn't all life in the saddle. You can kick back in a rocking chair, spin a tall tale around a campfire or enjoy a cool dip with family and friends. Don't miss the delicious chuckwagon cooked meals -- you can 'git your grub' and eat right out in the wide open spaces.

Scenic Bandera , just northwest of San Antonio, is home to a number of ranches. Nearby Boerne features Western adventure and relaxation on the banks of the picturesque Guadalupe River.

The famed King Ranch along Texas' Gulf Coast offers a true visit of the Old West. Considered the birthplace of Texas ranching, the King Ranch sprawls across almost 1,300 square miles, making it larger than the entire state of Rhode Island. The only two new breeds of cattle developed in the U.S. -- the Santa Gertrudis and Santa Cruz -- were originally bred at the ranch.

If the rugged beauty of West Texas is more to your liking, try a stay at ranches in Odessa , Alpine or Van Horn . Sunsets at these magnificent vistas are breathtaking.

Whether you're after equine adventure or rustic relaxation, dude ranch fun all makes for happy trails. After all, a ranch vacation is creating a bit of the past with the comforts of today. So dust off that hat, cinch up your belt and put a swagger in your walk. You're in Texas now, pardner.

Some of the biggest and most well-known rodeos take place in the early months of the year. The Fort Worth Stock Show and Rodeo, held each January-February, kicks off the new year in a town known for its Western roots. Fort Worth , often called the "most Texan of all Texas cities," held its first stock show in 1896. More than a century later, the show has grown into a 23-day affair with international appeal for exhibitors and visitors alike. The rodeo features two Texas-sized weeks of rodeo thrills and spills, plus an exposition, entertainment and plenty of eats. While you're in Fort Worth for the rodeo, don't miss the stockyards area, restored in authentic Old West style. After the rodeo, stay in the Texas state of mind and go 'boot scootin'. World famous Billy Bob's cavernous dance hall is a favorite stop. The rodeo, stockyards and country-western entertainment will surely show you why Fort Worth has earned the moniker, "Where the West Begins."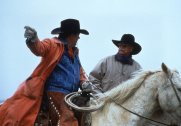 Photographer: Connie Thompson
In mid-February, the San Antonio Stock Show and Rodeo stampedes into Freeman Coliseum for two weeks of explosive bone-crunching rodeo action. As San Antonio rodeo fans and competitors like to say, "if it ain't broke, ride it!" A top draw of larger rodeos, including San Antonio, is the big name stars that entertain after the rodeo performances. Premier performers from the worlds of country, Tejano, R & B and rap music all entertain from a stage set atop a dirt-filled arena floor. San Antonio's Stock Show and Rodeo features many other attractions including canine cutups, a youth show and hands-on agricultural demonstrations and activities.

Following the San Antonio Stock Show and Rodeo, the Houston Livestock Show and Rodeo gallops into town every February-March. One of the largest rodeos in the world, the Houston Livestock Show and Rodeo is truly a grand spectacle. The two-week plus show attracts more than a million visitors from 50 countries and enlists 12,000 volunteers who log thousands of hours to put on such a massive event. Nineteen rodeo performances entice the top rodeo competitors in the world, who wouldn't miss the chance to compete for the high stakes prize money awarded at the Houston Rodeo. Don't miss the cream of the crop compete in Houston -- it's rodeo at its best.

There's plenty more in Houston . The Livestock Show and Rodeo hosts a world championship barbecue cook?off, parade, carnival and a big money livestock auction. Much of the money raised goes for educational scholarships. In fact, Houston prides itself on being one of the largest education charities in America. Its scholarship programs have benefited some 18,000 Texas youngsters. Don't miss this great rodeo event - especially now that it has said good bye to its long time venue, the Astrodome, and is moving into the brand new state-of-the-art Reliant Stadium in 2003.

While Fort Worth, San Antonio and Houston host legendary events, other rodeos in Texas aren't as large but inspire and entertain just as well. The Mesquite Rodeo can be seen live April through October and is broadcast weekly by TNN if you can't get there in person. About an hour or so southwest of Mesquite and the Metroplex, Stephenville is called the cowboy capital of the world. The state is home to many top riders such as Ty Murray, a 5-time All Around World Champion; Rich Skelton, a world champion calf roper who hails from Llano and Austin's Kappy Allen, the country's top barrel racer in 2001.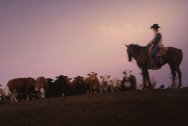 Photographer: Reinhard Brodesser
In July, look for the West of the Pecos Rodeo, home of the world's first rodeo, held July 4, 1883. In October, the rodeo action is in Waco . The Heart of Texas Fair and Rodeo ranks in the top 50 in the country and attracts top competitors and fans alike.

Rodeo fun isn't limited to professional competitors. From pee-wees to college athletes, cowboys and cowgirls start participating in rodeo from an early age. In Texas, you find all ages roping, barrel racing, steer riding, calf scrambling or bronco busting in local arenas.