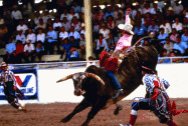 Is this a great state or what? Texas has lively festivals, fiestas and fishing tournaments. Spicy chili cookoffs, tear-inducing jalapeno eating contests, chamber music affairs and authentic cattle round-ups. A plethora of diverse events all add up to fun galore in the Lone Star State. There's an event for every taste!
Some of the best foot-stomping, heart-stopping action you can find anywhere is at a Texas rodeo. The roping and riding, the cowboys and cowgirls -- it's enough to make you holler "yee haw!" Titans among rodeos, shows in Fort Worth, San Antonio and Houston in the early part of the year offer plenty of Western entertainment plus carnivals, exhibits and eats. Saddle up, and check out the Fort Worth Stock Show and Rodeo (January-February), the San Antonio Stock Show and Rodeo (February) and the Houston Livestock Show and Rodeo (February-March).
"Move 'em out. Ride 'em in." Believe it or not, that's what you'll hear in Fort Worth, a modern city with a distinct Western flair. Every day, you can see "horns that don't honk," an actual cattle drive along a city street. Twice a day in the Fort Worth Stockyards National Historic District, wranglers in authentic Old West cowboy garb guide a herd of longhorns up East Exchange Avenue.
Every February, the biggest birthday bash for our first president is right here in the Lone Star State. The colorful border town of Laredo hosts the oldest festival honoring the colonial patriot. George Washington's birthday is celebrated with a lavish, multi-cultural festival. The festival, which began in 1898, has grown to a 16-day event with a parade, balls, pageants, concerts and street parties.
Also on the Texas border, Brownsville, holds Charro Days, a bicultural "Mardi Gras" celebration that lights up the city the last weekend in February.
In the spring, the state's highways and byways explode with color, courtesy of Mother Nature and Ladybird Johnson. More than 30 years ago, the former First Lady began the wildflower propagation along Texas highways, a program later copied throughout the country. Now, the blooms of multi-hued wildflowers are celebrated in varied happenings and on wildflower trails across the state. Many of the loveliest displays are seen in Central Texas. Year-round events are featured at the Ladybird Johnson Wildflower Center in Austin, where something is always in bloom.
Bluebonnets may be the state flower, but they aren't the only buds in Texas. In Tyler, acres of gorgeous roses flourish and are shipped to many parts of the world. The Tyler Rose Festival celebrates all things rosy with a festival, parade and crowning of the annual Rose Queen in October.
Agriculture is king, and we grow everything big in Texas. A myriad of events pays tribute to Texas' finest produce -- fuzzy-skinned peaches, succulent strawberries, juicy watermelons - even toothsome tomatoes. Don't miss peach jamborees in the Hill Country (Fredericksburg is especially famed for their delectable fruit), the Poteet Strawberry Festival, and watermelon fetes including the Luling Watermelon Thump in June and the What-a-Melon Festival in Piney Woods in July.
For a totally different epicurean experience, enjoy the Texas state dish - chili! Texans like it hot, and you can sample bubbling bowls of red at many events including the the legendary annual CASI International Chili Championship cookoff in Terlingua near Big Bend at the end of October; San Marcos' Chilympiad in September; and Czhilispiel -1661, Flatonia's Czech/German festival featuring one of the largest chili cookoffs in Texas.
If you need something cool after all the chili, check out the August Big Bands and Cool Cars event in Kerrville in August. The event combines nostalgic music with classic automobiles and a citywide ice cream social. Or head to the Medieval Faire in Plantersville (near Tomball) each October for jousting fests, juggling, lords and ladies a'dancing and more.
Discover the spectacular vistas of Palo Duro Canyon near Amarillo in the summer. The musical extravaganza "TEXAS" takes place June-August and is a spirited retelling of the state's history. It is one of the nation's most popular outdoor musical dramas set amid a splendid backdrop of the nation's second largest canyon.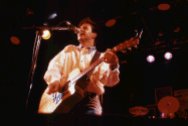 Music lovers have plenty to celebrate in the Lone Star State. Austin, known as the "Live Music Capital of the World," hosts an international, and widely acclaimed, music-fest each March. South by Southwest, which lasts for two weeks in the Spring, features the best of new acts around the world at local venues, plus a convention, and speakers from the music recording and publishing industry. Look for a wide range of other musical experiences including bluegrass festivals in Flomot, Grapeland and Round Rock. Folk music takes center stage at the world-famous Kerrville Folk Festival, which celebrates the beginning of summer with 18 days of live music performances each year. In Lubbock, a festival commemorating rock-n-roll pioneer and native son, Buddy Holly, rolls into town each September.
Bargain hunters and antique lovers alike will enjoy acres and acres of shopping fun at various Texas trade days. One of the biggest shopping meccas is First Monday Trading Days in Canton, which run from sun-up 'til sundown Thursday through Sunday prior to the first Monday of each month. It's one of the nation's largest and best-known flea markets with more the 300 acres of antiques, arts and crafts and handmade artifacts. In Central Texas, Warrenton and Round Top host huge antique events every April and October.
Each season brings special celebrations, and the holidays bring out some of the best and brightest. Look for Oktoberfest in Fredericksburg in the fall followed by spectacular holiday light displays in December. Johnson City, Marshall, San Antonio and many other Texas cities showcase illuminating events.
The diversity of Texas is apparent every month through its colorful festivals, jamborees, cook-offs and celebrations. All are open to the public and all offer a unique Texas experience. Whether you're into food, history, nature or music, the hard part will be picking your favorite!
Click to view Major Events or to search our more than 2,500 events listings. You can also find event calendar information on all cities pages.
Click Here for more information about submitting entries or about the Texas Events Calendar, submit a request online, contact trv-tec@dot.state.tx.us, call 512/486-5876 or write to PO Box 141009 Austin, TX 78714-1009.